KMP Hydrant Services, LLC, a fire hydrant maintenance company serving Indiana and the surrounding areas. Staff Certified at level of NFPA Inspector I/II, and IDEM Large Water Distribution Systems Operator.
KMP Hydrant Services was founded by career firefighters who recognized the inherent necessity of inspecting, maintaining, and repairing fire hydrants to ensure their usability in an emergency. Having witnessed, first-hand, the critical delay of water supply due to faulty hydrants on the fireground, these firefighters realized that fire hydrants are critical to maximizing the chances of life safety and property conservation. Fire hydrants, like any other man-made device, degrade over time and require periodic preventative maintenance. Firefighters have a unique perspective on fire hydrants, as they rely and depend on them. It is for this reason that KMP Hydrant Services seeks to take the burden of hydrant maintenance off of your shoulders!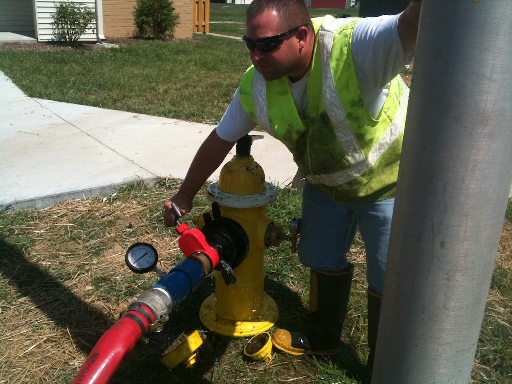 Fire Hydrants are our priority!
Across the nation, fire hydrants have been neglected and taken for granted, usually unintentionally. Many fire hydrants appear operational, however this can be misleading. Hydrants, like any other man-made device can and will fail if not inspected and maintained annually. Annual inspection and maintenance of fire hydrants identify key problems, as well as the appropriate repairs necessary to mitigate such problems. Catastrophic failure of hydrants can be minimized through annual maintenance. KMP Hydrant Services will ensure that your fire hydrants won't let you down when you may need them the most!